News
Great news: We got the EIC Transition Grant!
We are beyond happy to announce that we were selected by the European Innovation Council (EIC) as one of the receivers of the 2.5 million euros grant awarded to take breakthrough projects into real life.
Read more: Commission selects first EIC Transition projects to take breakthrough technologies from the lab into the real world
Foto: Uni Graz/Tzivanopoulos
The PureSurf initiative produces "green" surfactants from waste products and aims to found a spin-off company at the University of Graz. Check the latest news about PureSurf on the EU Trending Topics and on the University of Graz website.

Highlight: A method to produce polymers from lignin
We are proud to announce that our recent publication on bio-based polymers from paper industry waste made it to the homepage of the University of Graz! Congratulations to the authors who conducted this exciting research. Enjoy the read!

Merit Scholarship for former PhD student from Barta Group
Congratulations to Dr. Anastasiia Afanasenko (now post-doc at McGill University in Canada) for receiving the Merit Scholarship for foreign students (PBEEE 2021-2022)!

The Barta research group at University of Graz
Prof. Katalin Barta appointed as Editorial Board Chair of ChemSusChem
We are happy to announce that Katalin has joined ChemSusChem as a new Chair of the Editorial Board!
Read more in the editorial: A Fresh Look at Sustainable Chemistry, by Dr. David J. Smith

ERC CatASus Project dissemination in Project Repository Journal
We moved!
It is with a heavy heart that we leave our beloved laboratory at the Stratingh Institute for Chemistry, University of Groningen. Thanks everyone for the fantastic research atmosphere! We will miss you!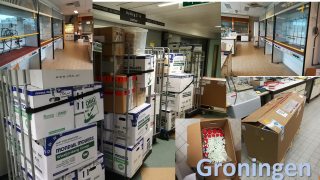 The past few months were incredibly busy, beside everything else, we moved! A fantastic and ongoing team effort to build up our new labs at the Institute of Chemistry, University of Graz. Stay tuned for more exciting research from this new location!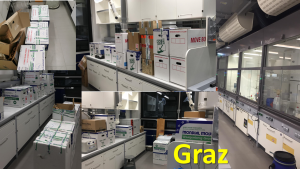 ACS Sustainable Chemistry & Engineering Lectureship Award for Prof. Katalin Barta!
Turning lignin into bioactive molecules
ERC Proof of Concept Grant awarded to Prof. Katalin Barta
Great news! Prof. Katalin Barta has been awarded an ERC Proof of Concept (PoC) Grant worth €150,000. The prestigious ERC PoC grant allows researchers to explore the commercial and societal potential of their ongoing ERC funded discoveries and fudning can be used for example to explore business opportunities, prepare patent applications or verify the practical viability of scientific concepts.
The awarded project 'PURE' aims to explore cleaner and more sustainable catalytic pathways for the conversion of renewable resources to valuable building blocks that are of interest for industrial partners.
Congratulations to all past and present group members who have made great contributions!
Interview with Katalin Barta in ChemCatChem
First N3C Award for Katalin Barta
Katalin Barta received the first N3C Award for her outstanding achievements in the field of catalysis. The purpose of the N3C award is to recognize excellent work in catalysis and chemistry carried out by an early career PI. The award is intended to give the next generation of talented catalysis researchers working in the Netherlands an extra encouragement and bring them in the spotlight of catalysis communities in the Netherlands and abroad.
https://www.rug.nl/news/2019/03/first-n3c-award-for-katalin-barta-
Sustainable alternative to fossil fuels and chemicals in the making
How can we use renewable resources efficiently for the production of fuels and chemicals? Replacing fossil fuels with sustainable alternatives, and polluting technologies with clean ones, is a great societal challenge and an important issue facing scientists. This is the central theme of the research of 2015 ERC Starting Grant winner Katalin Barta from the University of Groningen. Her research team has already published several high-quality papers and a patent in this field.
Read more…
ERC starting grant of 1.5 M eu awarded to support research activities in the Barta group!
Dr. Katalin Barta of the Synthetic Organic Chemistry group (Stratingh Institute for Chemistry) has been awarded an ERC Starting Grant of 1.5 million EUR. During this research she will develop novel, fully sustainable catalytic methods for the conversion of renewable resources to industrially relevant bulk and fine chemicals. The approach combines several disciplines including homogeneous and heterogeneous catalysis in order to address key fundamental challenges in the field. The ERC Starting Grant enables researchers to establish their team to further develop their research lines.